CRR Grants for Hatchery-Associated Projects
Hatchery-associated production (HAP) projects include the artificial production or rearing of salmonids. Cowlitz Restoration and Recovery (CRR) grant funding is available for on-the-ground HAP projects, or activities that lead to on-the-ground projects, aimed at reintroduction and recovery of Endangered Species Act-listed (listed) Cowlitz salmonid populations originating in the upper basin, upstream of the Barrier Dam.
More information on project requirements and evaluation will be available by the end of 2022, but in the meantime, these are some ways to learn more:
Review some of the CRR Program information, including the documents being updated for 2023
Use our CRR HAP Project Info Form to develop your idea and share it with us
Attend a virtual workshop to connect with CRR Program staff and technical advisors, learn more, and ask questions. Next workshop is 10/18 from 1 to 3 pm. Contact us for an appointment or to request an alternate date and time.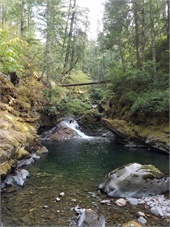 Please contact Melora Shelton 253-441-4994 with questions, if interested in applying, or to be put on a notification list for information (including links to virtual workshops) as it becomes available.
Tacoma Power is revising application materials and applicant guidance to improve support for project proponents in the next grant round.

Meanwhile, use our CRR HAP Project Info Form as a tool to start developing your idea and sharing it with us.

Look for updated information by the end of 2022.

Pre-application meetings will be scheduled for January or February 2023.

Draft applications will be due in March 2023. These will be reviewed and feedback will be provided to help you finalize your application.

Final applications will be due in June 2023.

Funding determinations are anticipated in October 2023.

Specific dates will be determined by the end of 2022 and updated here at that time.