Tehaleh water storage tank
Tacoma Water will construct a large water storage tank and pump station on a two acre parcel of land in the Pinnacle Ridge neighborhood of the Tehaleh community. This project works to ensure the reliability of water service, including adequate supply for firefighting and other emergency situations. A key component of this project is to control and maintain water pressure, enhancing the comfort of the community.
The need for this storage tank was determined during the planning and design of Pinnacle Ridge by Tacoma Water. The timeline for the project is directly tied to the growth of the community.
To minimize impact on the neighborhood, the site for the tank is on existing utility-zoned property. Tehaleh developers helped select the site during initial design of the neighborhood for its proximity and accessibility.
On Wednesday, May 13 and Thursday, May 14 between the hours of 9 a.m. and 4 p.m., Tacoma Water will conduct a geotechnical exploration on the property to the north of the communication tower site.

The exploration involves digging test pits and taking samples. The data we collect is necessary to design the new water tank and pump station for your community. You shouldn't experience any impacts to your water service during the work.
Process for design and construction:
Site design – storage tank, pump station and landscaping
Submit design to Pierce County for conditional use permit
Prepare for construction by clearing property
Build storage tank and pump station once permit is secured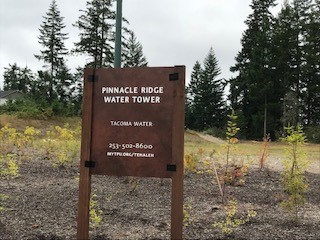 Project Manager: Michael Washington, PE
Are you experiencing a water emergency?
If you need to contact us regarding a water outage, discolored or dirty water, or drastic reduction in water pressure, use the information below.
Monday to Friday, 8 a.m. to 4:30 p.m.
253-502-8384
Weekends and Evenings
253-502-8344
If you have other questions about Tacoma Water, please call 253-502-8600.