Hybrid Water Heater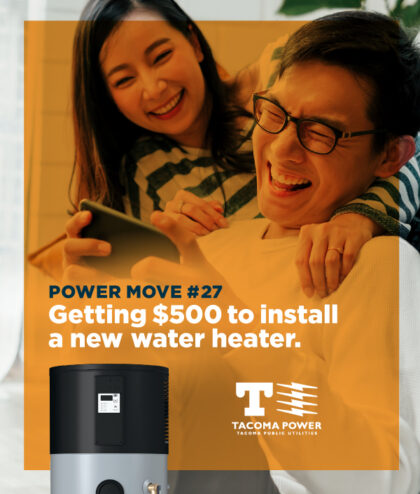 Overview
Water heaters are typically the second highest source of energy use in your home behind heating and cooling systems. If you currently have a standard electric water heater, you can reduce your hot water costs by up to 60% by installing a hybrid water heater that uses heat pump technology — called a heat pump water heater. That means greater energy efficiency and big savings on your utility bill. Hybrid water heaters have similar tank sizes as standard electric water heaters and feature the same range of temperature adjustments.
To help you decide whether switching to a hybrid water heater is right for you, enter some information about your home into this easy-to-use interactive tool.
Get $500 off instantly at local stores
Special offer: We've reduced the price of hybrid water heaters by $500 at The Home Depot and Lowe's.
When you buy a hybrid water heater at one of those stores, you'll save $500 right at the register. There's no need to submit an application, receipt or proof that the product you bought is eligible. 
Other hybrid water heater offers
We have two other offers to help make upgrading your water heater more affordable:
Customers who get the instant $500 off in-store are not eligible for the loan or rebate.
Loan details:
We offer a 3-year, 0% interest loan for the purchase of hybrid water heaters for residential properties up to four units per building. The maximum loan amount is $2,200 per hybrid water heater. The monthly payment for a $2,200 loan is about $62. If the total cost of the project exceeds the loan amount, you're responsible for the remaining balance.
Loan requirements:
Find a Contractor
How to apply for a loan:
Fill out and submit this application.
Rebate details:
Whether you hire a contractor or purchase and install your own hybrid water heater, you can get a rebate up to $500 to reimburse you for part of your project costs. Rebate applies only to materials, not labor costs, and cannot exceed the cost of materials.
Rebate requirements
Apply for a rebate
Additional rebates may also by available from product manufacturers, so talk with a licensed contractor for details. If you are considering installing a hybrid water heater on your own, check out these tips for DIY installs.
*Program requirements and rebate amounts are subject to change without notice. Check with Tacoma Power for current information. Energy and heating savings are estimates only. Actual savings may vary. Tacoma Power does not make any representations, promises or warranties with respect to actual cost savings from any of the products. Tacoma Power does not endorse any particular contractor, manufacturer or product.