Thermostats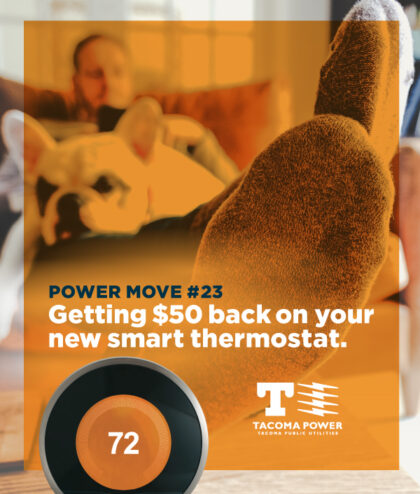 Overview
Heating and cooling make up about half of the average American household's annual utility bill, according to the U.S. Department of Energy. A thermostat gives you greater control over your heat and helps you save money, conserve energy and increase comfort. We offer a rebate for thermostats that work with your heating type: baseboard and wall heaters, or furnaces and heat pumps.
Both rebates are available whether you install the thermostat yourself or hire a contractor to do the work.
Programmable Line Voltage Thermostat Rebate Details (for baseboards)*
We offer a $25 rebate toward the purchase and installation of a programmable digital line voltage thermostat
Rebate Requirements
Thermostats must replace existing bi-metal line voltage thermostats on a one for one basis
The home's heating system must be electric baseboard, wall heat
Thermostat must meet Tacoma Power specifications:

Programmable
Digital display
Have a thermistor temperature sensing element that is accurate to within 1.5 degrees or better
Be UL- or CSA-listed for use with their application
Smart Thermostat Rebate Details (for furnaces or heat pumps)*
We offer a $50 rebate towards the purchase and installation of any NEW qualifying smart thermostat. The rebate is limited to one per heating system or a maximum of two rebates per home or living unit.
Rebate Requirements:
Smart thermostat must be listed on the BPA's Qualified Products List
Must meet our Smart Thermostat Specifications
Your primary heating system must be an electric forced air furnace or central heat pump
Rebate may be combined with product manufacturer rebates if applicable
Smart thermostat features must include:

Occupancy detection
7-day programmable or learning-based scheduling
Wi-Fi enabled with remote access
Heat pump auxiliary heat control capability
Not Eligible: Thermostats that control cooling-only systems or dual fuel heating systems (such as a gas furnace with an electric heat pump).
How to Apply for a Rebate
Digital Application – simply fill out the form and upload your receipt.
Prefer a paper application? Fill out the applicable thermostat application below and submit it to us.
To learn more, see our Rebates page and Rebate FAQs.
*Program requirements and rebate amounts are subject to change without notice. Check with Tacoma Power for current information. Energy and heating savings are estimates only. Actual savings may vary. Tacoma Power does not make any representations, promises or warranties with respect to actual cost savings from any of the products. Tacoma Power does not endorse any particular contractor, manufacturer or product.