Tree Coupon Program
Tree Coupons are available each season from October 1 to March 15, and must get redeemed by March 31 at a participating nursery.
Support Growing Tacoma's Tree Canopy Cover
Join the City of Tacoma in increasing our urban tree canopy cover to 30% by 2030 and get discounts from Tacoma Power through local nurseries.
Planting trees in your yard can shade your home and reduce cooling costs by 8-18%. They also reduce stormwater runoff, improve air quality and beautify your lanscape. A well-placed tree can cool temperatures by as much as 9 degrees in hot summer months and create more light in the winter when it sheds its leaves.
We have partnered with the City of Tacoma Department of Environmental Services – Urban Forestry Program to provide customers with tree coupons to use toward the purchase of trees from participating garden centers or nurseries.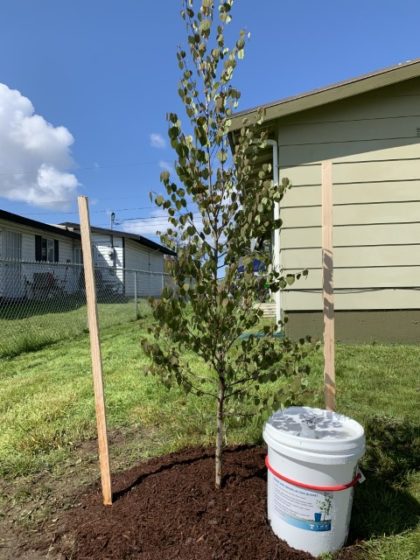 Tacoma Power customers and residents of Pierce County are eligible for the coupon program. Eligible recipients will receive a $30 coupon to purchase up to three trees ($90 maximum) and valuable information on tree planting and care.
Things to consider before you plant:
Research the best tree that fits your yard, as trees grow, they need plenty of space.

Review the suggested trees for planting near power lines.
Avoid planting medium to large trees near power lines.
Learn what trees should not be planted in our area.

Knowing your tree's dimensions at maturity allows you to plant it far enough away from your foundation, roofline or any other structures it could grow into.
Plant deciduous trees on the SW or SE side of your home for summer shade and winter sun.
Plant evergreen trees to block winter winds.
Call 8-1-1 before you dig the hole for your new tree to make sure you won't hit any utility lines.
Rather than using a garden hose, consider watering bags or buckets to help save water.
Water your trees heavily ( to 10 gallons per week) in early mornings or late evenings.
For tips on strategically planting your tree for energy conservation, download our Shade Tree postcard. For information on how to plant around utilities, see our Right Tree, Right Place web page. To read about tree selection, planting, maintenance, and more, visit the City of Tacoma's tree planting web page.
Program limitations:
Limited to one coupon per household and coupons are valid for the purchase of up to three trees per household.
If your household has already redeemed a coupon in the past three years, you are not eligible for this year's program.
Coupons are valid for the purchase of trees only from participating garden centers/nurseries.
Only Pierce County residents are eligible due to the source of funding.
The coupons are not transferable or redeemable for cash.
The minimum redemption value is $30.
The maximum redemption value is $90.
$30 coupons are for trees that are at least five-gallon size and are valid only at seven participating Pierce County garden centers and nurseries. The 2022-2023 coupons will be available after October 1, 2022.