Install instant savings with your free water savings kit
We offer a variety of products to Tacoma Water customers to help you find easy ways to instantly save water and money at home.
What you'll get
Each kit includes simple, water-saving products that you can install yourself. With your free kit, you can reduce water usage when you take showers and turn on the tap, save on outdoor watering, and reduce your home's power use.
After reviewing the selection below, fill out the online form to request the items you need for your home. Please read all instructions carefully. While supplies last.
Hose Spray Nozzle

Water-saving nozzle helps control the flow of water from your hose and has seven patterns.

Hose Timer

Timers automatically shut off so you don't waste water. No batteries required. We recommend you shut off hose valve when finished.

Rain Gauge

Your landscape will typically require one inch of water a week, including rainfall. Measure how much water falls as rain or from your sprinkler.

Showerhead

Efficient showerheads save water and the energy used to heat it. Installation takes five to eight minutes, and a family of four could save 3,600 gallons of water and $60 each year in savings on your utility bill. This efficient showerhead has two settings, massage and spray.

Faucet Aerators

Faucet aerators mix air with the water flow to reduce water use. Installation takes two to five minutes, and could provide up to $25 each year in savings on your energy bill.

Kitchen Sink Aerator – Saves water and provides the nice feel of a bubble stream.
Bathroom Sink Aerator –The shower-shaped spray is designed to save as much water as possible.
Fill out the form below and Tacoma Water will send you a free Water Savings Kit full of efficient products directly to your home!
If you have questions about any of these products, email conservation@cityoftacoma.org or call us at 253-502-8723.
Top ways to save energy and water this summer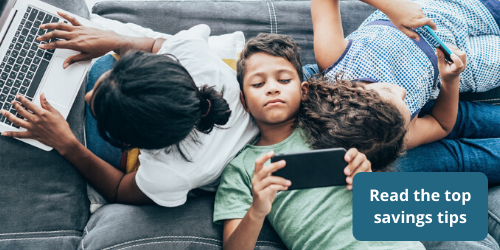 Summer might be hot, but it doesn't have to be expensive. You can beat the heat with our easy, no or low-cost ways to save on your utility bill.