Power Out at Home
Power outage readiness: What you need to know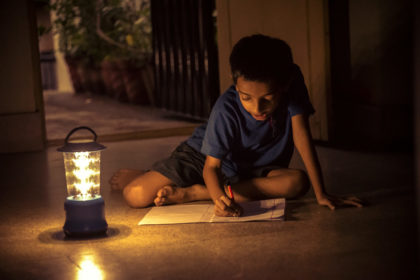 Life Sustaining Equipment List
Get on a list of customers using life-sustaining equipment by calling 253-502-8600. We will notify you before planned outages and tag your meter with a medical seal if your doctor completes and sends us a Healthcare Provider form.
Tree Trimming
Ask us to trim or remove hazardous trees away from power lines by calling 253-502-8729. We will remove trees and related debris that are unlawful for a qualified contractor to remove. Learn more online here.
Emergency Kits
Keep emergency kits and information handy—stock up on batteries, flashlights, non-perishable food, and water. Have a list of contacts available, and keep your cell phone(s) charged. Turn off and unplug electronics such as computers, TVs, and security systems during an outage. A checklist can be found at Ready.gov/plan.
Visit our Power Outage Map to report your outage and view information about outage in progress. You can enroll to receive notifications about outages affecting your home. Our website and outage map are mobile responsive, so you can access them via your smartphone when your power is out.
Check with your neighbors to see if they have power. The outage could be a larger issue not yet on the map, or it could be isolated to your house. If there isn't an outage affecting your neighborhood, check to see if your circuit panel or fuse box has a tripped breaker or blown a fuse. If it has tripped, reset the breaker or replace the fuse. You can also check your mast or the disconnect outside below your meter base (see diagram below).
Turn off all appliances, water heater, computers, TVs, air conditioning and heating units, and lights (major appliances can be turned off at the breaker box). When power is restored, turn items on one at a time. Heavy instant demand when we're trying to restore power can cause a secondary outage. For tips on food safety, see the Centers for Disease Control's website.
Turn on a porch light and one inside light so you and our crews will know when your service is restored.
Use generators properly. Improperly installed generators can seriously injure our crews.
Whose Responsibility Is It?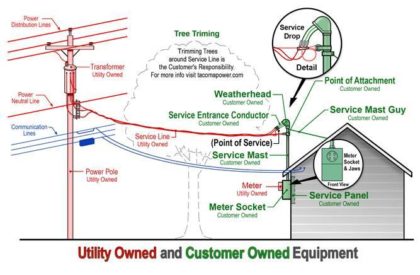 Enlarge and view a PDF of this diagram
Tacoma Power installs and maintains:
Power distribution lines, poles, transformers and power neutral lines within our right of way.
The power service drop or wire carrying electricity from Tacoma Power's lines to the mast on your home or business (trees or shrubs under this wire on your property should be maintained by you).
You are responsible for these components:
The mast, strike plate and meter socket to your home or business (identified in the diagram).
If electricity comes to your house through overhead power lines and your house is out of power, the problem could be your mast. Sometimes strong winds or tree branches can pull the mast away from the house during a storm.
The mast, which is outside your home (either on your roof or at your meter) usually looks like a metal pipe. Do not touch the mast. It is energized. If it looks loose, bent or damaged, you will need to contact an electrical contractor to get it fixed. The mast is part of your home, and therefore, your responsibility. Tacoma Power cannot restore power to your home until your mast is fixed.
We may require repairs to damaged service equipment before power can be safely restored. You are responsible for damaged electrical service equipment at your home or business. Only a licensed electrical contractor should attempt to work on these parts of your electrical system. An electrical permit will be required.
Other:
Communication lines will be repaired or maintained by the local cable or phone providers.