Community EV Charging Rebate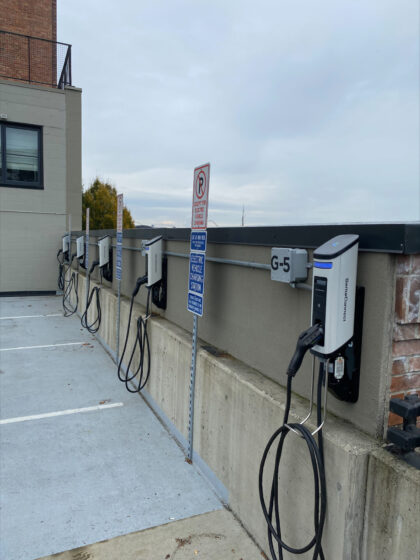 Are you looking for reasons to install EV charging at your business for public use or for the tenants at your multifamily property? What's a better incentive than money back? If you meet Tacoma Power program requirements, you may be eligible for a Community Charging rebate. See the rebate amounts below and look through program eligibility, requirements, and specs to see if this a good fit for you. Even if you are not sure if you plan to apply, we encourage you to fill out the application for general interest and our staff will contact you to provide more information and answer questions.
Level 2 Networked Charging:
Standard projects: $5,000 per port, up to $50,000 total project rebate
Priority projects: $10,000 per port, up to $70,000 total project rebate
Level 2 Non-Networked Charging:
Standard and priority projects: $2,000 per port, up to $15,000 total project rebate
Utility Infrastructure Upgrades (utility side of the meter):
Networked charging projects: Up to $10,000, included in total project caps
Non-networked charging projects: up to $7,000, included in total project caps
Priority charging projects have been identified as falling in underserved and overburdened areas of Tacoma Power's Service territory. These projects receive an increased rebate to help cover the incremental cost to add charging for present and future EV drivers.
Priority projects must be located in the Low or Very Low zones on the Pierce County Equity Index Map in order to receive priority rebate funding for charging installations.
Program Requirements
The property must:

Be served by Tacoma Power.
Be a multi-family building/property or commercial building with an owned parking area.
Have charging installed where multiple EV drivers can charge. Parking spaces and chargers must be shared, not deeded individual assigned spaced. Condo owners should check out our residential EV charging rebate.
Have signage and bollards (where applicable) installed to permanently reserve for EV charging and call attention to the purpose of the space(s).

The property owner must:

Complete the online community charging program application

Wait to begin work

until the Transportation Electrification Rebate Agreement for Community Charging has been signed and processed by Tacoma Power. This agreement with the property owner is contingent on all necessary bids being submitted and pre-project site walk being completed.
Proceed with the project when they have received documented approval from Tacoma Power
Provide an estimated project complete date after receiving approval from Tacoma Power to begin work

Tacoma Power will conduct comprehensive pre- and post-inspections.

The charging equipment must:

Include a 5-year warranty from the manufacturer or installer and a 5-year networking fee (applicable to networked charging installations)
Be a Level 2 (240v) charging station (delivering no less than 7.2kW of charge)
Be UL listed
Be installed by a licensed, bonded, and insured company
Be installed to manufacturer specifications
Be installed according to Tacoma Power Electrical Permitting requirements and any other building or zoning codes. The property owner and/or contractor are solely responsible for securing all necessary permits.
Click Here to Begin Application
Need more info before applying? Click to begin the application above and select "Research phase, just getting started" from the drop-down menu requesting your project status. Complete the basic information questionnaire and we'll be in touch to provide more information and answer your questions.
Tacoma Power reserves the right to withdaw, modify, or terminate this program at any time, without notice.

This program is a limited time offer.

Program requirements, product specifications, and rebates are subject to change without notice.

Tacoma Power does not endorse any particular contractor, retailer, manufacturer or product.