Safety Information
Be prepared for emergencies
Natural hazards such as earthquakes, floods, and severe storms can disrupt power and water utility services. There are a number of easy things you can do to keep your household safe during these kinds of emergencies. Whether it's a minor event such as a short power outage or something bigger like a natural disaster, taking steps now can prevent injuries and property damage in a real situation.
Know what kind of disasters and emergencies are most common where you live, and learn what emergency responders recommend.
Create an emergency communications plan with your family and store important phone numbers somewhere besides your cell phone. Store important documents where they are safe from flooding.
Sign up for emergency alerts in your area or download the FEMA App.
Plan where you will go if told to evacuate.
Build emergency supply kits for your home, car and workplace.
You likely have many of the items for your kits at home already. A printable checklist is available at Ready.gov/plan.
Down Power Line Safety
It is vital to exercise caution when around down power lines, as they can be dangerous and pose a serious hazard. If you come into contact with a live power line, you could be shocked, which can be fatal.
Treat all power lines as if they are live, even if a power line appears to be inactive.
Keep a safe distance from the line. Do not approach or touch a down power line to avoid electric shock.
Do not try to move the line. Leave this to the trained professionals.
Stay in your vehicle if a power line falls on it and call for help. Do not try to get out of the vehicle or move it.
Report the down power line immediately. Tacoma Power will send crews to safely remove the line, make necessary repairs and restore power.
Generator safety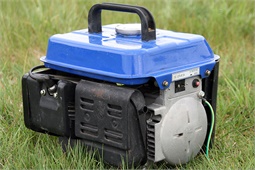 Generators can provide comfort, safety and security during power outages. They can be either installed permanently or used temporarily. In both cases, you must install the generator properly to protect electrical workers, your family and your property.
If generators are not properly installed:
They can "backfeed" into the electric utility system and energize dead lines, causing serious injury to electrical crews working on those lines
They can create wiring hazards and exhaust fumes that can injure you and your family
Your risk damaging your generator. Electrical workers use a grounding system to protect themselves. This system will damage an improperly installed generator. Also, when power is restored to the electrical system, it will feed into your home or business and burn out your generator.
Carefully read your generator's instructions. The use of a generator may require a permit and inspections. Contact us at 253-502-8277 for more information.
Connections

Never run electrical cords under rugs where heat might build up or damaged cords may go unnoticed.
Keep cords out of the way so they don't present a tripping hazard, especially in dimly lit doorways.
Do not operate a generator with a faulty ground fault circuit interrupter (GFCI). You risk electric shock.
Be sure that the total electricity power load on your generator does not exceed the manufacturer's rated load.

Location

Do not operate your portable generator indoors. Exhaust gas contains poisonous carbon monoxide.
Provide adequate ventilation during generator operation.
Keep your generator dry. Operating the generator near water can lead to serious injury or death.
Keep the generator away from buildings and other equipment during operation.
Do not enclose the generator in any structure.
Operate your generator on a firm, level surface.
Keep flammable materials away from the generator.

Fuel

Use fresh, clean fuel.
Stop the engine before refueling.
Add fuel to your generator in a well-ventilated area.
Do not smoke or allow flames or sparks where the generator is refueled or where fuel is stored.
Fuel vapors are flammable and may ignite after the engine is started. Be sure to clean up any spilled fuel before you start the generator.
Check for fuel leaks before, during and after operation.

Other

Read your owner's manual! Generators are capable of providing enough electrical power to cause a serious injury or death if misused.
Make sure all safety labels that come with your generator stay permanently affixed to the generator.
Know how to stop the generator quickly in an emergency. Make sure other adults in the household know how to stop the generator quickly.
The muffler becomes hot during operation and may remain hot for a while after shutdown.
Test the GFCI before each use. If the test fails, do not use your generator; see your generator dealer instead.

These tips are not a replacement for reading the manufacturer's instructions, which are written specifically for your generator.
Tree trimming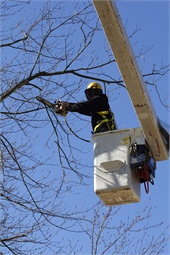 Trees add to our quality of life, and Tacoma Power encourages a healthy urban forest environment. However, when trees grow into power lines, they create hazards.
Our tree crews work year-round to maintain required clearances on all transmission and distribution circuits we operate. Each circuit is inspected and trimmed on a four-year cycle. That provides the best program of control for growth and maintenance.
If you are going to plant a tree under a power line along the street, please check out our list of recommended tree species.
For questions about tree clearances from power lines, tree removal or related issues, please call Tacoma Power at 253-502-8729.
Clearances

The exact amount of clearance needed in a given area depends on the voltage of the line and the type of line construction used. We must also consider line sag during temperature extremes as well as wind movement of power lines and trees.

Tree removals

Tacoma Power will remove trees that are directly under or so close to our energized primary lines that they may pose an electrical hazard or are unlawful for a qualified contractor to remove. We will haul away branches and chips, but large pieces of wood may be left for the owner's use. Trees that are severely leaning, dead, decayed or pose a hazard to power lines may be removed by Tacoma Power. However, we reserve the right to refuse removal of any tree that may be safely removed by a qualified tree worker when no electrical hazard exists or there is no possibility of damage to the electrical system.

To request tree removal service, call our Tree Line at 253-502-8729 or email us at treeline@cityoftacoma.org. Or, print and complete the Request Tree Service and Removal Form, then mail it to us at:

Tacoma Power Tree Removal Request
3628 S. 35th St.
Tacoma, WA 98409

Homeowners who would like to make use of the wood chips from the trees we remove may call or email us. All chips are "as is" and delivered only in a full load.

Tree trimming

Trimming trees around services to residences and private lights is the customer's responsibility. Tacoma Power will trim trees around service wires that run from pole to pole, including the first 10 feet of service wire from the power pole to the residence.

In order to reduce the risk of electrical hazards, we will drop your service wire and reconnect it after your qualified contractor has completed their tree work.  A disconnect may require up to five business days to inspect the area and schedule crews.

Tacoma Power will trim trees and vegetation around energized power lines. It is important to keep alleys and rights of way clear of plants and debris so crews may safely perform maintenance or emergency functions on fiber optic cables, utility poles and padmount transformers.

Trees next to distribution lines are trimmed so they will provide proper clearances, promote growth away from power lines and leave the customer with a well-trimmed tree. Unfortunately, some species are not suitable around power lines and continued trimming of these types of trees may not always look appealing.
Move over or slow down
Washington State law requires drivers to vacate the lane closest to stationary emergency vehicles, including utility service vehicles, if they are traveling in the same direction and it is safe to do so. If not, drivers are required to slow down and may not exceed the speed limit within 200 feet before and after a stationary utility service vehicle that has its flashing lights activated. Help keep our crews safe!