Habitat Assessments
We are conducting habitat assessments to better inform protection, restoration, and recovery projects and planning in the upper Cowlitz basin.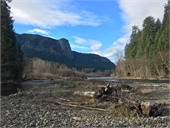 Tacoma Power has been developing a suite of habitat tools (e.g., Geomorphic Assessment, Hydraulic Model) that inform the habitat conditions and trajectories within the upper Cowlitz and Cispus basins. Earlier work included identifying reaches with high-quality habitat potentially suitable for protection.
The Lower Columbia Fish Recovery Board, with support from Tacoma Power, has developed an Upper Cowlitz and Cispus Habitat Strategy. The outcome of this effort, focused upstream of Cowlitz Falls, is a habitat strategy comprised of over 100 potential actions (restoration and protection measures) to support listed salmonid recovery.