The new Care Center at Franke Tobey Jones depicts an incredible environment – it is warm, friendly, and inviting, with a non-clinical feel, which was their goal. Everything from its inviting gathering areas, lovely dining rooms, spacious private resident rooms, large industrial kitchen, and outdoor dining/meeting spaces make it a beautiful complex.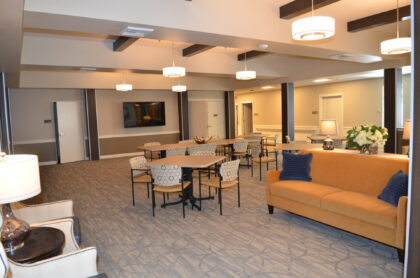 As our population ages, and the demand for long-term senior and memory care rise, Franke Tobey Jones is prepared to meet those needs through the new facility. It sets a high standard for long-term skilled nursing and memory care in our community. In planning for the Care Center, Franke Tobey Jones listened to its residents, the broader community, and other experts in their field, and provides housing, programs, and care that respect those wishes and exceed expectations.
The new building, adjacent to Point Defiance Park, was developed to take advantage of sustainable design strategies to improve long-term performance and offer healthy living and working conditions. Franke Tobey Jones participated in Tacoma Power's New Construction program, where they received $28,264 in lighting rebates and $59,500 in heating and cooling rebates. Numerous energy efficiency features provide residents and staff with the many benefits that a sustainable building provides. Besides providing a healthy environment, the energy-efficient design offers significant long-term operational cost savings as one of the most rewarding benefits. Rising operating costs is a critical issue that administrators of senior living facilities face. Building sustainable facilities through energy-efficient design helps Franke Tobey Jones manage utility costs, maintain quality surroundings, and be aesthetically pleasing.
"Incorporating high-performance lighting systems using state of the art fixtures, controls, and occupancy sensors, reduced energy consumption from day one," said Bob Beckham, chief operating officer at Franke Tobey Jones.
The enhanced building performance allows the center to use less than 75% of the power comparable buildings expend.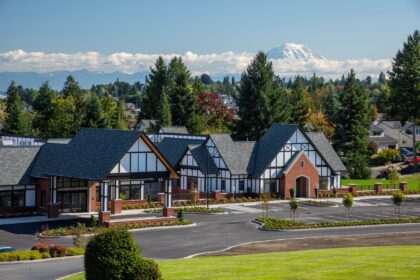 "Tacoma Power's rebate program made a significant lighting upgrade feasible where it may not have been otherwise. Having a knowledgeable utility contractor facilitate the seamless implementation of a complex system also helps," Beckham added.
A resident family member stated, "The facilities are clean, bright, and well-appointed." Other residents, family members, and team members also enjoy the new Care Center. Whether they live in the building, visit, or serve and take care of residents, many others express it's a beautiful environment.
To learn more about Franke Tobey Jones visit FrankeTobeyJones.com.