Catholic Community Services has been serving people in need in our community for over 100 years. The organization provides critical services to individuals, children, and families struggling with poverty, intolerance, and racism. As a good steward, its staff is keenly aware they are responsible for the finances they've been entrusted to advance the organization's mission in the best possible way. When it came time to upgrade building equipment, they relied on their reputable electrical contractor to help make informed cost-saving decisions. The non-profit wanted to make the best use of their budget with adequate planning and resource management.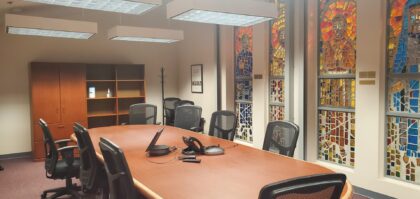 The Tahoma Center is a large, older building with three floors and is the hub for more than 25 programs. The Tacoma Power Bright Rebates program made a significant lighting upgrade feasible where it may not have been otherwise. There were several deciding factors to installing energy-efficient lighting. First, lowering operational costs helps reduce Catholic Community Services' utility bill. Longer lasting LEDs also reduce their maintenance costs, and going from aging, inefficient lighting technology to a brighter, more evenly distributed light was aesthetically pleasing for their staff.
Since 2020, lighting upgrades were made in the organization's main office interior and exterior, its Food Connection building, and Great Room. LED lighting is used with variable settings for ambiance inside and for safety outside. Tacoma Power collaborated with Danard Electric to process the rebate application from start to finish. In total, the organization received over $12,500 in lighting incentives and save almost 117,000 kWh, which is enough energy to power a home for 10 years.
"I would like to thank Tacoma Power for having the rebates available for big project like this one," said Petra Curry, Facilities Manager for Catholic Community Services. "It added a plus to install LED lighting."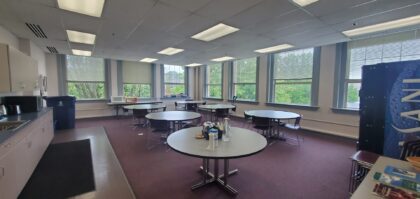 The brighter areas garnered positive feedback from many employees. The maintenance and facilities staff appreciate not having to buy and change out light bulbs as often, and their finance team values the energy reduction and cost savings.
Petra noted, "The conference rooms feel much more welcoming, it is a great change from the old fluorescent tube lights."
"I've always struggled with the harsh lights in the office, these new lights make a big difference and make my eyes happy," said staff member Cindy M.
Another energy saving project was incorporated into the Gratzer Building. The Family Housing Network provides a safe refuge with basic services such as showers, laundry, kitchen facilities, and computer stations. When the building needed a new heating and cooling system, an energy-efficient HVAC system was a priority to have an abundance of consistently fresh air flow and plenty of hot water. They also save electricity so it's a quick return on their investment. To make the upgrade more affordable, Catholic Community Services also received $6,000 in Tacoma Power energy efficiency rebates on equipment for two building upgrades.
The money saved in operating costs over the life of the equipment will be reinvested where it's truly needed, to offer care and support to our neighbors in need. To learn more about Catholic Community Services, visit ccsww.org.
We are proud to partner with the Tacoma Rainiers. Rhubarb and Catholic Community Services know switching to energy-efficient lighting can save energy and help lower your utility bill.