Heat Pump Water Heater Rebates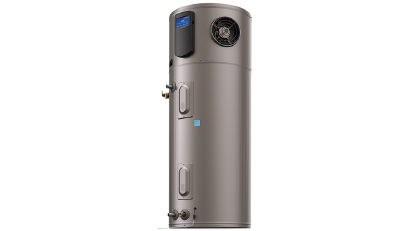 Overview
Water heaters are typically the second highest source of energy use in your home behind heating and cooling systems. If you currently have a standard electric water heater, you can reduce your hot water costs by up to 60% by installing a better water heater that uses heat pump technology — called a heat pump Water heater (HPWH). That means greater energy efficiency and big savings on your utility bill. HPWHs have similar tank sizes compared with standard electric water heaters and feature the same range of temperature adjustments.
To help you decide whether switching to a HPWH is right for your home, here is an easy-to-use interactive tool.
Get $500 off your next water heater
Special offer: We've reduced the price of hybrid water heaters by $500 at these Home Depot locations:
7050 Tacoma Mall Boulevard, Tacoma
4602 Center Street, Tacoma
121 Military Road East, Tacoma
303 35th Avenue Southeast, Puyallup
1716 South 352nd Street, Federal Way
9602 214th Avenue East, Bonney Lake
1450 Marvin Road Northeast, Lacey
1325 Fones Road Southeast, Olympia
If you buy a HPWH at one of those stores, you'll save $500 right at the register. There's no need to submit an application, receipt, or proof that the product you bought is eligible.
If you buy a HPWH at a non-participating store, you're still eligible for a $500 rebate, but you'll need to follow our standard process and meet specific requirements outlined below.
Standard process and offer: Eligible property owners can get a $500 rebate towards the purchase and installation of a qualifying HPWH in a home or rental property up to four units. There is a limit of two rebates per home or living unit. Additional rebates may also be available from product manufacturers, so talk with a licensed contractor for details. If you are considering installing a HPWH on your own, check out these tips for DIY installs.
Find a Contractor
Rebate Requirements
You must be a Tacoma Power customer
Product must meet our Heat Pump Water Heater Program Specifications
Product must be a Tier 3 HPWH and be listed on the BPA Qualified Products List
HPWH must replace a standard electric water heater
HPWH must be installed according to the manufacturer's specifications
Homeowner must acquire all relevant permits prior to installation
If you are installing the HPWH yourself, in addition to the above requirements:
You must submit copies of product receipts or invoices
Rebate applies only to materials, not labor costs
Rebate cannot exceed the cost of materials
Not Eligible:
Buildings with five units or more
How to Apply
You have two options to apply for a rebate:
Additional Documents and Checklists
When submitting a paper application, make sure you include the required supplemental documents, which are outlined here:
*Program requirements and rebate amounts are subject to change without notice. Check with Tacoma Power for current information. Energy and heating savings are estimates only. Actual savings may vary. Tacoma Power does not make any representations, promises or warranties with respect to actual cost savings from any of the products. Tacoma Power does not endorse any particular contractor, manufacturer or product.