Water Source
The source of our water supply varies throughout the year, depending on the season, weather, snowpack level, inflows and water storage conditions.
Our Firm Yield is 107 million gallons per day (Firm Yield is really the "minimum" amount of water that could be reliably produced on any day of a given year). The average use is approximately 50 million gallons per day (excluding Tacoma's production for the other three Partner utilities in the Regional Water Supply System). Note that our peak use during the summer may be double this average, and in some extreme cases may exceed our Firm Yield.
The typical amount of water available by source is shown below.
Green River supply – 73 million gallons per day
Second Green River supply– 27 million gallons per day on average (interruptible share of Regional Water Supply System; includes storage)
Local wells – 40 million gallons per day
North Fork wells (alternative Green River supply – not additive to other sources) – 60 million gallons per day
For more information read our Integrated Resource Plan (IRP) on our ability to manage available water supplies, plan for new supplies as needed, and protect stream flow for fish in the Green River.
Water Supply Conditions as of September 7, 2021
Our water supply remains average.
On July 14, 2021, The State of Washington declared a drought emergency for much of the state. While many of the State's watersheds and groundwater resources will experience diminished water supplies this summer and early fall (especially if the dry trend continues), the Duwamish-Green watershed (Tacoma water supply), Cedar – Sammamish watershed (Seattle water supply), and Snohomish watershed (Everett water supply) are all experiencing near-average runoff this summer. This, in large part, is due to the abundant snowpack that fell in these watersheds throughout this past winter.
Tacoma Water currently maintains adequate sources of supply to meet our customer's projected water use. Our municipal storage reserves at Eagle Gorge Reservoir are currently full, and our daily sources of supply from the Green River and South Tacoma Wellfield are also available.
We will be monitoring conditions as they develop over the coming month or two. In the meantime, we continue to recommend Tacoma Water customers use water wisely.
To learn more about your water supply, see the following pages: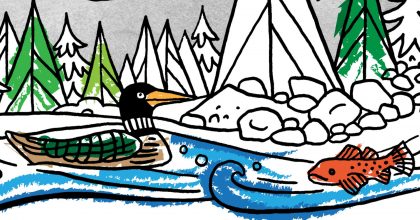 Our water comes from far away. Most of it comes from the Green River Watershed, 40 miles from Tacoma . Tacoma Water's new free activity booklet provides an engaging way for adults and children alike to learn about water conservation and understand where our water comes from and how it gets to you! Color water pipes and tanks, find the many animals in the watershed word search, and look for sasquatch in the forest. Adults and educators may want to use the booklet as a teaching tool about our local water cycle. Download and print as many copies as you'd like at MyTPU.org/WaterActivityBook.