Streetside Electric Vehicle Chargers
Electric vehicle drivers in Tacoma's 15 Neighborhood Business Districts can soon charge their EVs using streetside Level 2 chargers.
The City of Tacoma's 15 Neighborhood Business Districts will each receive one new streetside charger by the end of 2022 and eight are in historically underinvested areas* according to the City's Equity Index.
In late March 2022, the first charger was installed in Tacoma's Oakland-Madrona Business District. The charger is located at 3851 Center Street.
Most of the City's Neighborhood Business Districts don't currently have EV chargers for community use.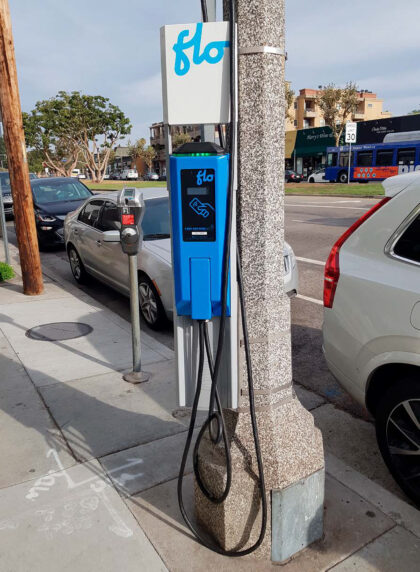 The 15 Neighborhood Business Districts include:
6th Avenue
Dome District
*Fern Hill
*Hilltop
*Lincoln
*McKinley
Narrows
*Oakland-Madrona – Installed at 3851 Center Street
Old Town
*Pacific
*Portland Avenue
Proctor
Ruston-Pt. Defiance
*South Tacoma
Stadium District
Fast Facts
Installations will begin in the underinvested* Neighborhood Business Districts first.
Signage will identify the charging locations, including signs at the sites and way finding signs.
You will find the charging sites on public EV charging services (website/app) like PlugShare.
You will find the chargers streetside in the right of way (ROW).
TPU will charge a fee to charge at the stations, consistent with other utility-owned EV chargers.
Why install chargers in Tacoma's Neighborhood Business Districts?
Supports businesses, schools, multifamily residents, and people in neighborhoods that previously had no access to public EV charging.
Helps businesses attract customers who can charge their EVs while they shop.
Provides people who live in Tacoma's neighborhoods access to EV charging they may not have at home.
Makes EV charging accessible to people in Tacoma who have EVs or those considering EVs.
Reduces driving-range anxiety as access to public charging continues to grow.
Helps Tacoma Power support the growing demand for EVs in our service area.
A collaboration between Tacoma Power, the City of Tacoma Public Works Department, the City's Parking Services, and its Community and Economic Development Office made the EV chargers possible. They reviewed existing infrastructure to find locations with the capability to support a new charger to keep the installation and construction costs low, prioritize locations, and ensure the chosen locations would meet traffic and parking management requirements to match existing parking structures. The utility also worked with Community and Economic Development Office and business district representatives to secure support for the locations in each unique business community. Most chargers will mount to streetlight poles. Two won't but they will still use existing infrastructure.
Click here and tell us where you would like to see an EV charger in your neighborhood. We will consider your suggestions when we install future chargers.