Central Heat Pump Rebates
Overview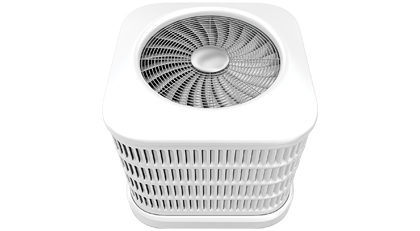 Using a central heat pump (CHP) is an energy-efficient way to both heat and cool your home. Compared with electric resistance heating such as a furnace or baseboard heaters, a CHP can reduce your electricity use for heating by 25-50%. That can add up to big savings on your utility bill.
A CHP uses an outdoor compressor that is connected to a furnace that pushes air through ducts in your home and out of the vents in your rooms. The temperature is controlled by a single thermostat. During colder months, a CHP supplies even and consistent heat while using less electricity than other electric heating options. In the warmer months, the system keeps your home cool and comfortable while also dehumidifying the air. Plus, its built-in air filter helps improve indoor air quality.
Central Heat Pump Rebate Details*
We offer eligible property owners a $1,000 rebate towards the purchase and installation of a qualifying high-efficiency CHP when replacing an existing electric forced air furnace.
The rebate is limited to one per home or living unit. Additional rebates may be available from product manufacturers, so ask your contractor about your options.
Find a Contractor
Rebate Requirements
Must include installation of a new and qualified electric forced air furnace and a high efficiency CHP
The new CHP must be AHRI certified minimum 9.0 HSPF and 14 SEER rating (check with the manufacturer or a qualified contractor for details)
CHP must be tested, certified and installed by a Performance Tested Comfort Systems (PTCS)-certified technician or contractor
Not Eligible:
Rental properties with 5 or more units
New construction
Homes with an existing CHP or ductless heat pump (DHP)
Homes that have previously participated in our DHP program
Central Heat Pump Loan Details
To help you purchase a CHP, we offer a seven-year, zero-interest loan for owner-occupied homes and residential rental properties up to four units. The maximum loan amount is $10,000 and the monthly loan payment is about $120. Zero-interest loan recipients are not eligible for a CHP rebate.
Loan Requirements
You must own the home and land.
Eligible properties include owner-occupied homes and rental properties up to 4 units.
Eligible customers must have a good TPU payment and credit history.
The contractor doing the work must have an active Trade Ally Agreement with us.
If the total cost exceeds the loan amount, you are responsible for any remaining balance.
Not Eligible:
Limited liability companies (LLCs) and corporations
CHP systems installed by the homeowner or any non-PTCS-certified technician or contractor
How to Apply
Simply fill out the relevant application below, check the box next to the rebate you want to claim and submit it to us.
Additional relevant documents and checklists
Owner-occupied documents and checklists
Rental property (up to 4 units) documents and checklists
To learn more, see our Rebates page and Rebate FAQs.
*Program requirements and rebate amounts are subject to change without notice. Check with Tacoma Power for current information. Energy and heating savings are estimates only. Actual savings may vary. Tacoma Power does not make any representations, promises or warranties with respect to actual cost savings from any of the products. Tacoma Power does not endorse any particular contractor, manufacturer or product.