The former Wonder Bread bakery has served up memories to Tacoma residents since 1913. Many residents have relatives who worked there or remember as a kid going to buy from the 'day-old' bakery outlet. Today, the building has been converted to flex, retail, mixed-use and creative office spaces for major tenants, complete with modern upgrades, including new heavy power and LED lighting throughout the historic building.
Neal Mulnick, Principal with Clover Capital Commercial Real Estate, bought the building in September 2018 and finished the renovation in April of 2020. They heard the building was going to be torn down by its previous owners and were excited to bring it back to life. They collaborated with Tacoma Power and the City of Tacoma early in the project to help retain and upgrade the one-of-a-kind building. The structure had outdated power service with transformers located in an underground vault, above an aquifer, creating a possibly hazardous condition. To keep the aquifer safe, and avoid possible contamination, Tacoma Power relocated a new transformer that now serves the entire building. The LED lighting upgrade brightens the space, is good for the environment, and their bottom line.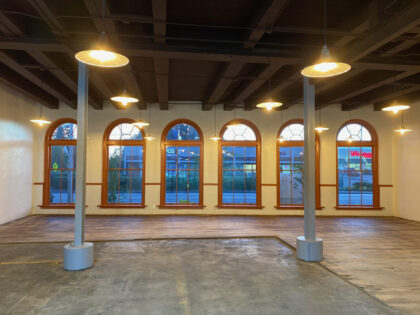 The Tacoma Power Bright Rebates Lighting Program was a large deciding factor for making the LED lighting upgrade. Initially, the plan was to upgrade one room, but the new owners worked with Tacoma Power and identified additional cost-saving opportunities and decided to improve the entire building.
"It's a wonderful business-friendly program that achieves great results," said Mulnick. "Energy-saving equipment is more environmentally friendly and reduces our energy bill."
Working with Tacoma Power, they received $6,503 in energy-efficient rebates for LED lighting. Their total energy savings is 42,183 kWh, which is about enough energy to power four average homes in the Tacoma Power service area for a year.
"This project has been the most fun of any we've completed to date. We're so proud of how it turned out," Mulnick added. "The Hilltop area is a melting pot, and being able to retain this great part of the neighborhood history means a lot to our company and our community. Our family business goes back more than 100 years over four generations starting with Ben's Truck Parts on South Tacoma Way. It's special for us to be able to add to and preserve the history of Tacoma in another unique way."
The Wonder Building is a well-known and iconic part of Tacoma and the Hilltop neighborhood's history. Collaborating with Tacoma Power helped the real estate team preserve the iconic landmark. The building offers a quaint feel with its character and history and unique spaces with its modern upgrades of more power and beautiful LED lighting. The restored building will be around for the next generation of Tacoma families to make new memories.
To learn more about The Wonder Building, visit TacomaWonderBuilding.com.