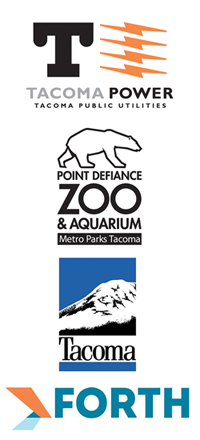 Anyone interested in learning more about electric vehicles can stop by the front entrance of Point Defiance Zoo & Aquarium in Tacoma between 10 a.m. and 3 p.m. Nov. 4 to test drive or ride a variety of electric and hybrid cars and electric bikes.
The event outside the zoo is free.
The Electric Vehicle Ride and Drive Event will take place during the zoo's Chillin' with Polar Bears weekend, which encourages people to reduce vehicle emissions and shrink their carbon footprint to limit the impacts of climate change.
A team of electric vehicle experts will answer questions about everything from how to charge an electric vehicle to the carbon and fuel cost reduction benefits of going electric.
Attendees can also pick up free energy conservation tips, and participate in family friendly activities to learn about habitat and climate protection.
"We support electric vehicles because they are a clean alternative to traditional vehicles – especially when the electricity that fuels them comes from renewables like the hydroelectricity Tacoma Power provides its customers," said Tacoma Power Superintendent Chris Robinson. "We think it's important to provide information about electric vehicles, and this event is a great way to do that."
"Helping people learn how to reduce their carbon footprints fits well with the mission of Point Defiance Zoo & Aquarium," Conservation Engagement Manager Karen Povey said. "We are an Arctic Ambassador Center and home to a number of species that are threatened by the effects of climate change. Zoo animals like polar bears Boris and Blizzard inspire our visitors to take action that we hope will help their counterparts in the wild."
Test drives and rides will be first-come, first-served. Participants must be over 21 and show a valid driver's license to test drive a vehicle.
"This event is part of a larger effort to double electric vehicle sales in Washington and Oregon by 2020," said Jeff Allen, executive director of Forth. "We appreciate the opportunity to partner with local utilities and other organizations to show people in person just how much fun electric cars can be."
###
About Tacoma Power
Tacoma Power serves 179,000 customers in Tacoma, University Place, Fircrest and portions of Fife, Lakewood, Federal Way, Steilacoom, Joint Base Lewis-McChord and other portions of Pierce County. The utility includes seven divisions: Generation, Transmission and Distribution, Power Management, Click! Network, Utility Technology Services, Reliability & Compliance, and Rates, Planning & Analysis. www.tacomapower.com.
About Forth
Forth is a Northwest nonprofit with the mission of advancing electric transportation in this region. Forth is the primary recipient of a Department of Energy grant intended to double electric vehicle sales in Washington and Oregon by 2020. Nearly 20 other electric vehicle "ride-and-drive" events will be offered in communities across the two states during the duration of the grant. www.forthmobility.org
About Point Defiance Zoo & Aquarium
Point Defiance Zoo & Aquarium, the Northwest's only combined zoo and aquarium, practices and promotes responsible stewardship of the world's resources through education, conservation, research and recreational opportunities. The zoo, a division of Metro Parks Tacoma, is accredited by the Association of Zoos & Aquariums (AZA) and the Alliance of Marine Mammal Parks and Aquariums (AMMPA).