At Grocery Outlet, you'll find brand-name groceries and produce discounted from conventional retail prices. It's no surprise the local grocery chain wants to keep its overhead costs low, to pass the savings onto customers. When the company looked to upgrade its lighting systems, it turned to Tacoma Power to walk through the process and answer questions. Each Grocery Outlet is family owned and operated, which gives each store owner its choice of what to install. Today the 6th Avenue and 56th Street locations welcome customers with low prices and low-cost, energy-efficient lighting.  
Both grocers took advantage of Tacoma Power Bright Rebates on lighting over the last few years. Investing in new LED lighting saves energy and helps keep costs down. Project costs for the locations were about $30,000 each, with an estimated payback between one-and-a-half and two-and-a-half years. The 56th Street store earned over $14,000 in utility incentives, and the 6th Avenue store about $18,500. Energy savings for both projects is around 208,000 kWh, which is almost enough energy to power 17 average homes in the Tacoma Power service area for a year.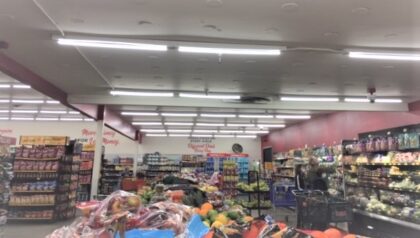 Brian Mack, the owner of South Tacoma Grocery Outlet, researched lighting options beginning in 2019. The most significant deciding factors were the potential energy savings and eliminating the high costs and time to maintain the existing lamps and ballasts. By working with a local contractor to upgrade light fixtures throughout the store, those factors are no longer an issue. Another significant benefit to the project was that the process was straightforward with minimal effort.  
Brian noted of the partnership, "The contractor ordered and installed the lights, and submitted paperwork to Tacoma Power for rebates. I only had to say yes to the savings; it was a pain-free process with no hiccups." 
Mr. Mack was so pleased with the results and the overall costs he encouraged the North Tacoma Grocery Outlet to move forward with a lighting retrofit of its own in 2021. Store owners Ken, Lyn, and Griffin Lowe knew they needed to be more energy-efficient and that the T-8 lighting tubes at their store needed replacement eventually. They had many questions about lighting options, how those options would affect their bottom line, and possible earned incentives. Jeff Gascoyne, a lighting specialist for Tacoma Power, guided them through the process and helped them choose the right LED lighting for their facility.  
"Without his analysis, we would have truly felt lost. There are so many things to think about when doing a lighting retrofit, with cost being right at the top of that list!" Lyn exclaimed. "We leaned into Jeff's knowledge and guidance which gave us a greater sense of confidence in what we were doing." 
Both stores are happy with their new fixtures and lower utility bills. Customers have always loved the lower-priced groceries, and now they love the bright lights too, which makes for a better shopping experience.  
View all our incentives for businesses by visiting MyTPU.org/BizRebates.