Driving down South Tacoma Way at dawn or dusk, the bright, welcoming presence of Auto Outlet of Tacoma beacons would-be car buyers to their lot. The Scannell family has owned the used car lot at 3430 South Tacoma Way for over 20 years. They take pride in hand-selecting and delivering used vehicles to the Puget Sound community—a pride that carries over into ensuring customers enjoy a secure, inviting atmosphere with high-quality, energy-saving lights purchased through Tacoma Power's Bright Rebates program. These new lights, installed by Rainier Lighting and Electric Supply, provide Auto Outlet of Tacoma visibility from the road and considerable energy savings on their electric bills.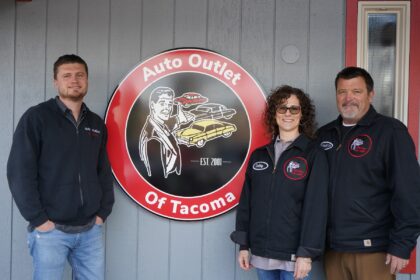 Derek O'Connell, vice president of Rainier Lighting and Electric Supply, remarked, "It is amazing how lighting can change the feel and look of a business such as Auto Outlet on the outside. The lighting looks amazing, and [the] dealership is brighter and stands out when driving down South Tacoma Way." 
When they bought the lot, the Scannell family knew the tall light poles were a great asset. However, the large, fragile halogen bulbs that lit the outdoor area were expensive to buy and even more costly to operate. When the old bulbs needed replacement, the Scannells would rent a cherry picker and move around their car inventory to access the poles. Mike Scannell, business owner and manager of Auto Outlet of Tacoma, knew there had to be a way to save the time and money they were spending on the outdated lights. He spent time carefully researching energy and cost savings of LED lighting. 
Finally, a friend at another dealership called Mike Scannell, explained the Tacoma Power Bright Rebates program, and recommended that he call Rainier Lighting to help with the project. The Bright Rebates program through Tacoma Power offered attractive incentives that would make the LED lighting upgrades affordable. Rainier Lighting and Electric Supply supplied the new light fixtures and worked with local contractor JW Electric to have them installed at the Auto Outlet of Tacoma. 
"A big benefit of working with Tacoma Power and Rainier Lighting was the overall seamlessness of the transaction," Scannell said. 
Kerry Cameron, lighting specialist at Tacoma Power, worked with O'Connell and helped make the process as easy as possible for the customer. Cameron consulted with O'Connell on the technical aspects of the project, and the close coordination between all involved resulted in a stress-free upgrade for the local business. 
"Working with our trade ally, Rainier Lighting, was a pleasure, and they are a great partner to work with on projects," Cameron noted. 
Within a month of finishing the lighting upgrades, the car dealer received a rebate check for about $8,000. The estimated energy savings for the project is around 59,500 kWh, with an estimated annual utility bill savings of almost $5,000.  
Tacoma Power's Bright Rebates program has flexible options to help businesses of all sizes affordably add energy-efficient lighting. It's an effective way to upgrade old lighting and reduce power consumption simultaneously.