About Tacoma Power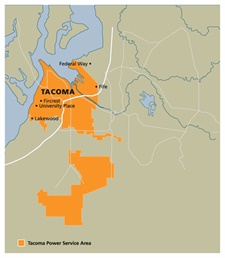 Tacoma Power provides electric service to the city of Tacoma, Fircrest, University Place, Fife, parts of Steilacoom, Lakewood, Joint Base Lewis-McChord and unincorporated Pierce County as far south as Roy. That's nearly 179,000 customers. View a more detailed map of our service territory and others who serve around us.
We have been publicly owned since 1893. We are a division of Tacoma Public Utilities and are governed by a five-member Public Utility Board.
Tacoma Power also owns Click! Network, which provides telecommunications services such as cable television, broadband and wholesale internet services.
Our Mission
Tacoma Power is an innovative, citizen-owned electric utility that generates, transmits and distributes electricity and provides energy and telecommunication services in an increasingly competitive marketplace.
We are committed to providing high-value, competitively priced products and services to our customers through the quality of our employees, and the responsiveness that results from local ownership.
We will continue to serve our customers in Tacoma and neighboring communities and serve new markets to benefit both existing and new customers.
Quick Facts
Basic stats:
180 square miles of service area
798 employees
157,813 residential customers (54% inside city limits; 46% outside city limits)
18,417 commercial customers
2,374 miles of transmission and distribution lines (1,526 overhead; 848 underground)
Power use:
Average use per household: 12,242 kilowatt-hours per year / 33.5 kilowatt-hours per day
Average cost per household: $1,080 per year / $90 per month
Power supply:
Our power supply is 89% hydroelectric power. Of that, 46% is provided by our own hydroelectric power facilities.
Substations:
4 main/transmission substations
5 switching stations
48 distribution substations
12 dedicated distribution substations
23 Bonneville Power Administration customer substations
8 generation switchyards
Conservation:
50.4 million kilowatt-hour savings (22 residential; 28.4 commercial/industrial)
$12.6 million investment in customer conservation projects
Tacoma Power paid $8.2 million toward customer conservation projects
Customers paid $4.4 million toward conservation projects
Financial:
Value of our fixed assets: $1.038 billion
Total operating revenue: $446.3 million
Bond ratings:
Fitch: AA-
Moody's: Aa3
Standard & Poor's: AA
2017 data
History
Tacoma Power was established in 1893 when the citizens of Tacoma voted to buy the privately owned Tacoma Light & Water Company. Local citizens believed that public ownership and local control would give them a higher caliber of services and the ability to maintain control over them. That decision paved the way for us to build one of the finest and most reliable electric systems in the United States.