2020 Tacoma Water Highlights
Our mission to provide clean, reliable water continued throughout 2020 amongst complex challenges. We started the year with plans to implement two large projects: restructuring our organization and implementing our 2020-2025 Strategic Plan.
New Organizational Structure
We implemented a new organizational structure in response to growing business complexity to ensure strategic alignment, a strong workforce, increased efficiency and effectiveness, and empowered decision making. While our mission didn't change, the economic, technological, social, and environmental landscape around us did. As a result, our new structure aligns around functions and positions us well for the future. Objectives of the reorganization include focusing on workforce and leadership development; strengthening our safety culture; building flexibility and increased workforce capabilities; continuous improvement related to role clarity and business processes; system-wide thinking; and data-driven decision making at the right level. Our five new sections are Business Services, Customer and Employee Experience, Maintenance and Construction, Planning and Engineering, and Source Water and Treatment Operations.
Strategic Plan
Our vision to be "an exceptional community resource empowering employees to deliver life-sustaining value" with our clean, reliable water was in clear focus during the unforeseen and uncertain events of 2020. Our core values, such as safety, stewardship, and adaptability, drove us daily to provide our customers with clean, reliable water while keeping our workforce safe and prepared. Our Strategic Plan outlines clear objectives and initiatives to help us improve as an organization in our systems, processes, and allocation of resources for the many projects outlined and scoped at the end of 2020 to begin in 2021.
Operational Update
Maintenance and Construction had its second year in a row of record customer/developer-driven work, with nearly 1,800 orders for our development community. In addition, this year's demand surpassed the previous record high requests by over 400 orders. As we move into 2022, we continue to meet the unprecedented demands needed to support the thriving commercial and residential development.
Development Stats
Tacoma Water continued to execute at a high-level, meeting developer demands to construct short plats, warehouse storage, residential homes, and multifamily apartments. The workload production statistics highlight the booming Puget Sound region regarding economic development and housing demand.
We created 192 Water Availability Certificates, which is a good indicator of general construction activity in the county, which was slightly lower than last year but near the average for the past couple of years.
We created 887 fixed fee orders, which is near the average high from 2004-2008 and is triple the low of 297 in 2010, demonstrating the increase in residential development within the region.
We created 364 Time and Material project estimates: 67 residential and 297 commercial or multifamily.
We commented on 1,551 permits, nearly the same as the previous year.
We added over 10 miles of new distribution mains to the system from 29 private contracts, higher in the previous year's categories. Projects included a mix of residential, warehouse storage, and one school.
Flood Recovery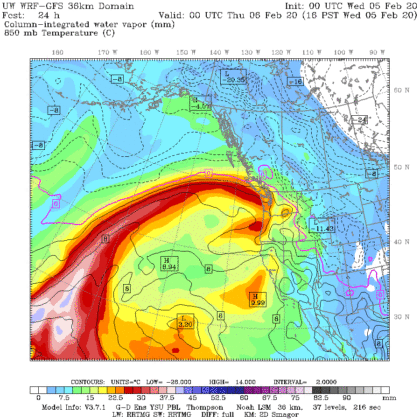 An atmospheric river coming from the west hit the Green River watershed on Feb. 5, causing flooding at the Green River Filtration Facility (GRFF) and triggering flooding, landslides, and road washouts throughout the watershed area (Figure 1). Prior forecasts of the event prompted us to fill sandbags and inspect and clean road stormwater systems such as ditch lines and culverts to be ready for the storm.
Impacts from this 13-year return interval storm included flooding of our GRFF facilities, road washouts (including one that exposed 25 feet of the North Fork Pipeline [Figure 2]), slides, flooding that closed watershed access roads, and slope failures impacting power and communication lines.
We initiated the Incident Command System to organize our response. Initial activities included pumping flood waters from around the GRFF and assessing the damage. We deployed pumps from the TPU campus to aid on-site pumps with water removal, and GRFF facilities were largely dry by Feb. 7.
Over the next few days, restoration activities included rebuilding roads and clearing slides on the North Side Mainline (5500) Road and South Side Mainline (3703) Road to re-establish access to Howard Hanson Dam. Washout on the 5500 Road exposed approximately 25-ft of the NF Wells Pipeline. By February 10, the 5500 Road was accessible to the 6-mile marker where we replaced an undersized culvert. Unfortunately, floodwaters from an unnamed tributary made the 5500 Road impassible from the 6.25 to 7-mile marker for several more days.
By Feb. 21, floodwaters had receded from the unnamed tributary, and we could repair the remaining damages. Unfortunately, we couldn't repair segments below unstable slopes until summer, after the soil dried sufficiently, allowing work to proceed safely.
Community Projects
Tacoma Water executed the 2020 portion of the utility's Lead Gooseneck Replacement Plan. The utility completed the work in a geographically equitable manner with relevant regular communication to staff and the public. The gooseneck project remained on schedule throughout the year, resolving, on average, 13 replacements per month, totaling more than 1,186 resolved since the project began. Only 29 of the original 1,215 potential gooseneck locations remained unresolved ahead of the May 2021 commitment to the Public Utility Board and public.
We continued participation in the Sound Transit Link Extension Project by installing water mains within the Hilltop and Stadium Districts.
We also replaced approximately 4.6 miles of aging distribution main, including 4 miles of water main replacement in coordination with the City of Tacoma Department of Public Works and Environmental Services. These partner projects are an opportunity for cost savings to our customers through construction coordination with multiple departments and agencies.
Click here to view Tacoma Water's 2020 Financial Report.
Click here to view Tacoma Water's 2020 Financial Highlights.