Special limited time rebate increase for rental properties
We've increased these rebates for windows in rental properties until Sept. 30: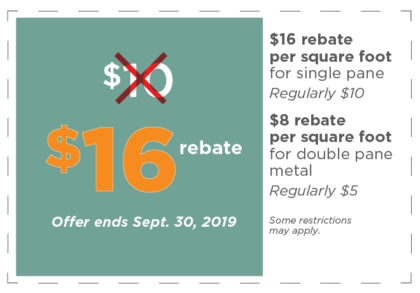 $16 rebate per square foot for single pane (reg. $10)
$8 rebate per square foot for double pane metal (reg. $5)
Our current insulation rebate for rental properties remains the same at $1.60 per square foot.
Promotions for Participating Contractors
In addition to the increased rebate amounts, we are promoting you — our valued Trade Allies — to 5,000 rental property owners in our service territory.
To take advantage of the increased rebate amounts, customers must use a Tacoma Power Participating Contractor.
Our new, limited-time slogan used on marketing materials lets customer know about you:
WE'VE GOT A REBATE AND A CONTRACTOR FOR THAT.
Call us at 253-502-8363, visit MyTPU.org or call one of our Participating Contractors.
Thank you for participating in our Trade Ally program. With your partnership, we can help our customers save money and electricity, and increase the comfort of their home.
Spread the news & savings 
Send your customers to MyTPU.org/WindowOffer for information about Tacoma Power's limited-time offer and other rebates.