CRR Grants for Habitat Projects
Funding is available for on-the-ground projects, or activities that lead to on-the-ground projects, aimed at habitat protection or restoration that will support the restoration and recovery of Endangered Species Act-listed (listed) Cowlitz salmon and steelhead populations originating in the upper basin, upstream of Barrier Dam. CRR Program project priorities are ranked as follows.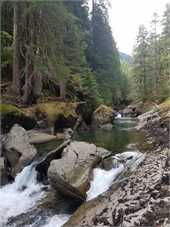 Projects directly benefiting:
Upper Cowlitz and/or Cispus spring Chinook Salmon
Upper Cowlitz and/or Cispus winter steelhead trout and Coho Salmon
Tilton salmon and steelhead listed populations and/or upper Cowlitz fall Chinook Salmon
Lower basin listed salmon and steelhead having a high proportion of matching funds
Tacoma Power will be coordinating the next CRR Program grant round in-house for both habitat and hatchery-associated production projects.
Please contact Travis Nelson at 253-502-8861 or Melora Shelton (253-441-4994) with questions, if interested in applying, or to be put on a notification list for information about the grant round as it becomes available.
Tacoma Power is revising application materials and applicant guidance to improve support for project proponents in the next grant round.
To be determined for the next CRR Program grant round.
2019

Cowlitz Indian Tribe Cispus-Yellowjacket Phase III Project

This project will restore habitat forming processes at the confluence of the Cispus River and Yellowjacket Creek. The Tribe was awarded $593,677 (full request) from the CRR Program, approximately one-third of the cost necessary to implement the complete proposal. The remaining project costs will be paid by Salmon Recovery Funding Board and the Pacific Coastal Salmon Recovery Fund.