CRR Grants for Habitat Projects
Funding is available for on-the-ground projects, or activities that lead to on-the-ground projects, aimed at habitat protection or restoration that will support the restoration and recovery of Endangered Species Act-listed (listed) Cowlitz salmonid populations originating in the upper basin, upstream of Barrier Dam. CRR Program project priorities are ranked as follows.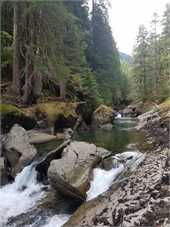 Projects directly benefiting:
Upper Cowlitz and/or Cispus spring Chinook
Upper Cowlitz and/or Cispus steelhead and coho
Tilton salmon and steelhead listed populations and/or upper Cowlitz fall Chinook
Lower basin listed salmon and steelhead having a high proportion of matching funds
Tacoma Power has partnered with the Lower Columbia Fish Recovery Board (LCFRB) for habitat project application intake and review through its existing annual salmon recovery grant funding round. As lead entity for salmon recovery efforts in southwest Washington and regional salmon recovery organization, the LCFRB has existing programs and resources to evaluate habitat restoration projects focused on listed salmon and steelhead. All applicants seeking CRR funding for habitat projects will follow the LCFRB's process and apply for funding through their grant round website.
All CRR applicants also need to submit responses to the CRR Supplemental Questions. CRR applicants who are not also seeking Salmon Recovery Funding Board (SFRB) funds must submit the CRR Additional Applicant Information form and CRR Proposal Narrative document. All CRR forms must be submitted with the LCFRB application on the grant round website.
The 2019 LCFRB grant round is open now. Draft applications are due at noon on March 18, 2019.