Water Grants and Loans
Get a water conservation grant or loan to replace your aged or leaking water line
You can receive an optional grant or loan to pay a licensed and bonded plumbing contractor that you choose to replace leaking or end-of-life water service lines at your home.
Grant and Loan Options
A zero-interest loan up to $5,000 for up to 84 months. (We can explore exceptions for amounts and terms exceeding this criteria.)1
A grant up to $5,000 income-eligible customers. (You can supplement exceeding amounts with a deferred loan.)1
1 All loans are secured with a lien against your property.
Why Apply
Maintaining the serviceable water line to your home is your responsibility, but we also know the water line isn't an asset that many people regularly service. Making repairs on your water service line now ensures your water service's reliability and prevents future leaks or bursts in the line. We understand that paying for unexpected home repairs out-of-pocket can create a financial strain. Our grant or zero-interest loan can help you pay for any needed repairs.
When to Apply
The water grant and loan applies to leaks or breaks discovered on your residential water service line.
Seven Simple Steps to Get a Grant or Loan
Either you or a utility representative discovers and reports a water service line leak or break.
You apply for a grant or a standard zero-interest loan and submit a contractor bid.* Click here for tips about hiring a contractor.
We approve the grant or loan application.
You sign documents in the presence of a notary and send them to us.
We review the documents and issue a loan setup completion notice.
You notify your contractor to proceed with repairs.
Upon receiving an invoice from the contractor, we verify the repairs and processes the payment.
*The bid should include an itemized list of all work to be done (including any permit costs required for your respective municipality) and be signed/dated by the property owner and contractor.
Start your online application
Or download the application, complete and mail it with your contractor bid to:
Tacoma Public Utilities
Water Conservation Programs
3628 South 35th Street
Tacoma, WA 98409
After completing the Water Service Line Grant/Loan application, there is an additional step.

If your monthly income falls within the income limits below, you may qualify for grant financial assistance.

Incomes are based on maximum household income before tax.

Household size: 1
Maximum monthly household income: $3,763

Household size: 2
Maximum monthly household income: $4,300

Household size: 3
Maximum monthly household income: $4,838

Household size: 4
Maximum monthly household income: $5,375

Household size: 5
Maximum monthly household income: $5,808

Household size: 6
Maximum monthly household income: $6,238

You must complete, submit, and we must approve of the supplementary TPU Utility Payment Assistance Application before you are eligible for the Water Service Line Grant. This supplemental application determines your income eligibility and the Customer Solutions team will review and make a decision.

If you have already completed this application in the past with Customer Solutions, please email WaterGrantLoan@cityoftacoma.org to confirm your information.

Start the Utility Payment Assistance Application Online

OR

Download, complete and mail us the printable application with supporting documents to:

Tacoma Public Utilities
Customer Solutions Office
3628 South 35th Street
Tacoma, WA 98409

Please submit copies of the following with your application:

Picture ID for each household member 18 years of age and older.
For children under 18 years of age you may use a DSHS document that shows household members by name or a certified birth certificate, school ID, or medical card.
Income information for the past three months for each member of your household over the age of 18. Acceptable income documents include:

Paycheck stubs
Child support invoices
SSI/SSDI award letter
Retirement pension or IRA statements
Interest, dividends or annuities statements
DSHS documents such as Lifeline/GAU or TANF
State Labor and Industry Veterans Affairs statements
Unemployment compensation documents
Rental property income documents
Self-employment income verification

Depending on your situation, you may also be required to submit additional documents.

Click here to learn more about our payment assistance programs.

If any members of your household are older than 18 and listed as having zero or undeclared income, they can complete a Declaration of Zero or Unreported Income or write a brief letter explaining how they currently meet their basic living needs such as food and shelter.
If you are disabled, please provide your most recent SSI or Social Security "Benefit Award" letter to show the amount you are receiving. If you do not have a copy of your current letter, contact the Social Security Administration one of the following ways:

Call the Social Security Automated Service Line at 800-772-1213.

If you don't qualify for the grant, you may still be qualified for the standard zero-interest loan as financial assistance for repairs.

After you complete the Water Service Line Grant/Loan Application, you will receive a confirmation email that includes a link to information about our Customer Solutions team and a link to the website page for information about applying for assistance. The application mentioned above can be found online here.

Water service line: Piping and water equipment located between the meter yoke outlet, onto the premises, and to the exterior wall of the first structure after the meter.
If necessary, installation or replacement of a whole house shut-off valve to establish a temporary service line (might be located inside the dwelling).

Sprinklers or irrigation systems
Plumbing fixtures, piping, etc., within a dwelling
Outdoor hose bibs
Pressure reducing valve (PRV) assembly not connected to the service line
Backflow prevention assembly not connected to the service line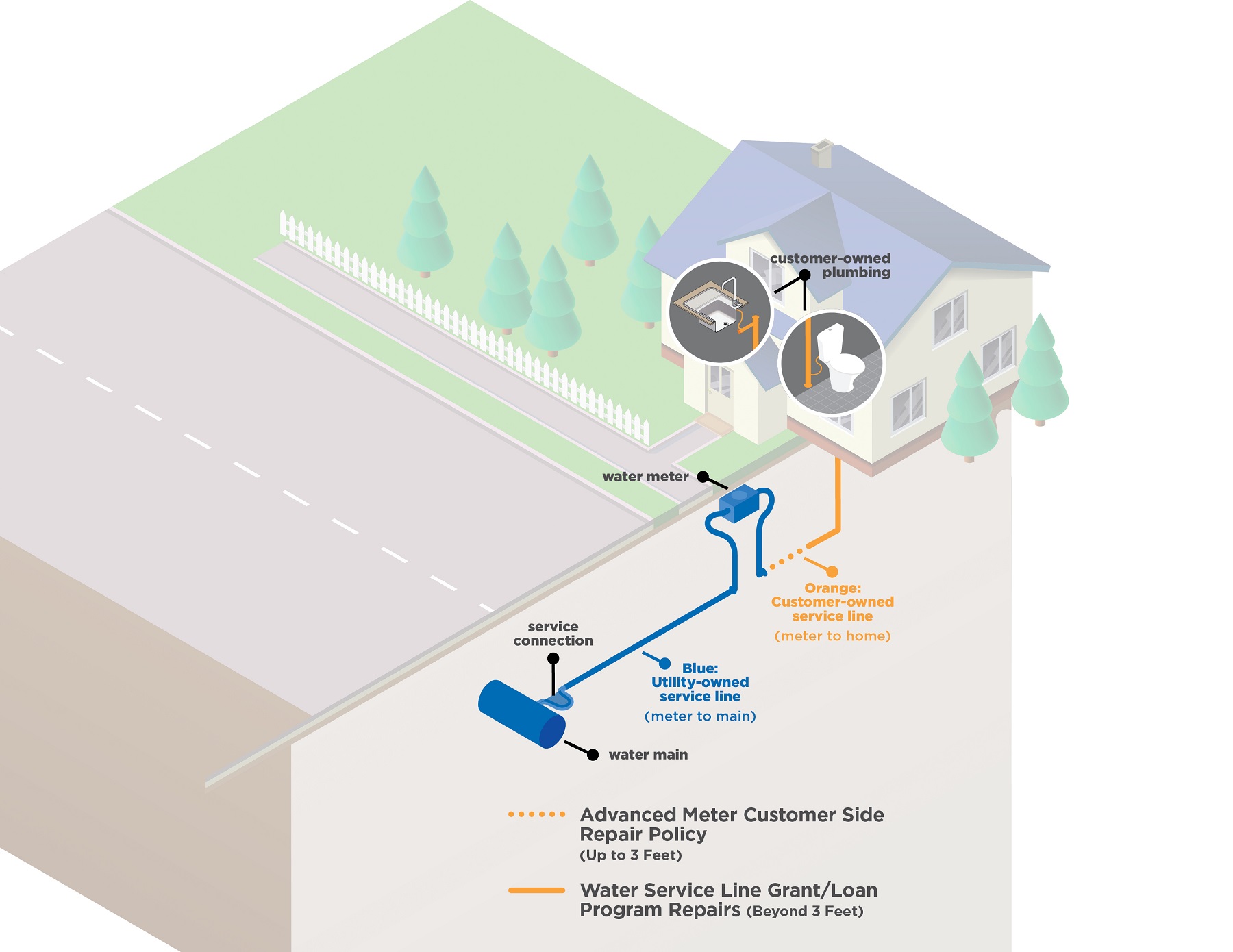 We own and maintain the blue water main, service line, and water meter. You own and are responsible for the property side service lines and plumbing in orange.* The water service line is the pipe from the city's water main to the property owner's house.
*Most service lines resemble the configuration depicted above. There may be instances where the meter is further away from the property, resulting in a longer customer-owned service line.
Contact Us for More Information
Phone number: 253-502-8058
Email address: WaterGrantLoan@cityoftacoma.org
Upon application approval, we offer zero-interest loans to property owners in the Tacoma Water service area to complete approved plumbing repairs between our meter and the point at which the water service line connects to the indoor plumbing. The typical cost of water service line replacement is about $3,500. The standard loan amount is $5,000 for residential customers, with exceptions on a case-by-case basis. For income-eligible customers, grants of up to $5,000 are also available. Completing a financial education course may qualify you for a temporary monthly payment reduction of $20 per month for 24 months
Financial assistance may be available to repair or replace your side sewer pipe through the City of Tacoma Environmental Services Sewer Conservation Loan program. Click here to learn more.