Tidal Power
Tacoma Power has studied the feasibility of tidal power in the Tacoma Narrows waterway. The project is on hold due to cost, environmental sensitivity and concerns with currents in the waterway.
In 2005, we began our exploration of tidal generation by submitting an application for a preliminary permit to the Federal Energy Regulatory Commission (FERC). On Feb. 22, 2006, FERC granted Tacoma Power the first permit (P-12612) to study tidal power generation in Puget Sound.
In 2007, Tacoma Power released this study on tidal power feasibility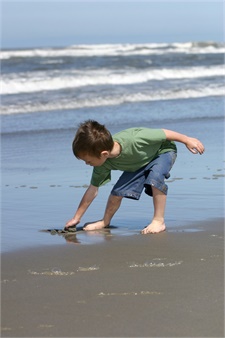 in the Tacoma Narrows waterway.
Tacoma Power's Tidal Study History
Tacoma Power developed a four-phase approach to conduct the studies necessary to design and build a commercial tidal generation plant.
The Electric Power Research Institute (EPRI) led the Phase I study. Completed in June 2006, the study concluded the Tacoma Narrows showed promise as a site for tidal power generation.
With the positive findings, Tacoma Power began Phase II in March 2007. During Phase II, Puget Sound Tidal Power gathered available historical data about tidal currents and seabed details of the Tacoma Narrows. After analysis of that information, it became clear that tidal generation was not an economically viable option for our customers at this time.
Tidal generation is a new technology. There is also much to learn about the full impacts of tidal turbines on the Puget Sound ecosystem.
Concerns include:
Will a tidal generation plant cause low oxygen levels downstream?
Will tidal turbines affect the seabed?
Will the turbines be subject to damage from submerged debris?