EV Charging Study Powers Up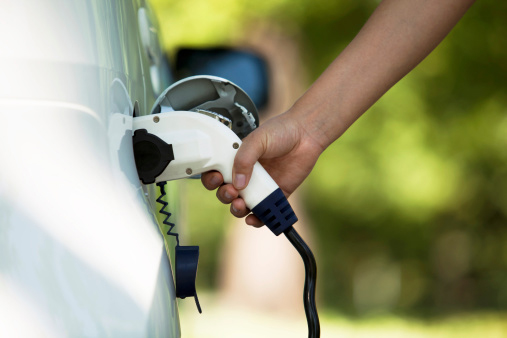 We are planning to launch a two-year study in 2019 to better understand the charging patterns for residential electric vehicles. In exchange for completion of surveys and data about EV charging and use, qualified customers may be eligible for up to $250 per year.
To be eligible, customers must be a residential Tacoma Power customer, own or lease a fully battery electric vehicle or plug in electric hybrid, and own their own EV charging equipment.
Are you a current or future EV owner interested in learning more? Sign up below to receive information and updates about this pilot program.
If you have questions, please email EVCharge@cityoftacoma.org, call 253-502-8363 or view the Frequently Asked Questions below.
Looking for more information on EVs? Click here for upcoming events, educational resources and ways to connect with other EV enthusiasts.
FAQs
We intend to collect charging information for Electric Vehicles (EV) and Plug-In Hybrid Electric Vehicles (PHEV) in our service territory. Results of the study will help us better understand how EVs affect the electric system and will inform how we can better assist EV customers through potential new programs, education, and new services.

We plan to recruit up to 100 participants. Participants will be provided payments to complete a series of surveys and provide vehicle charging data via a small device, the FleetCarma C2, installed in their vehicle over the course of the study period.

The study period is two years. Customers may participate for both years and a minimum of one year is required. The study will start in summer 2019.

FleetCarma is a connected car platform that allows organizations and individuals to effectively monitor electric vehicles. We have contracted with FleetCarma for this study.

Participating customers may receive up to $250 per year for a maximum of $500 over the study. Payments are based on completion of the surveys and providing vehicle charging data.

We will send you payments at three different points during the study. The first payment is $50 after you complete the entrance survey and we confirm the C2 device is connected. The second payment of $200 occurs after the first year of participation, i.e., leaving the C2 device clipped in your EV's OBD port to provide EV data for this study. Lastly, the third payment of $250 occurs after the second year of participation and completion of a final survey.

To be eligible, participants must be a residential Tacoma Power customer, own or lease a fully battery electric vehicle or plug in electric hybrid, and own their own EV charging equipment. Most major EVs and PHEVs are eligible for the study. A full list of eligible vehicles is provided at the bottom of this FAQ.

Participants will first register at the study registration website. We'll review your application to confirm eligibility. If accepted, we will send you a FleetCarma C2 with instructions for installation and how to activate your C2 device.

If you are selected to participate, the device will be mailed to you and you will be notified regarding your acceptance to the program.

The device is easy to install: simply plugging into your vehicle's onboard diagnostics (OBD II) port or Tesla diagnostics connector. The OBD II port is typically located below the steering wheel and is the same port mechanics use for diagnostic checks.

The device must be installed within 10 days after delivery. Participants that do not install a device must return the device and will not be eligible for payments.

Information will be collected from surveys and regarding vehicle charging. Collected information will be secured.

Survey information will primarily consist of typical demographic information and information concerning use of the electric vehicle. The vehicle device will collect information about:

Charging session duration, energy consumption, and location.
Trip duration, energy consumption, and distance traveled.
Trip GPS data will not be collected

GPS determines if a car is charged within the Tacoma Power service area. However, we will not collect actual GPS data. Lastly, GPS information is only collected when charging, not while driving. We will not know where vehicles are driven or parked.

The device should remain plugged in for the duration of the study. However, it is fine if your auto shop temporarily removes the device for diagnostic testing. Just be sure it is plugged back in afterward.

If the device is lost or damaged, or if you have any questions, contact us at EVCharge@cityoftacoma.org. Also, FleetCarma will notify you via email if the device is not communicating. In addition, there are also diagnostic lights on the device that you can view.

This study will help us approximate your carbon savings by driving an EV. Carbon savings estimates are based on our energy mix, which is primarily composed of clean, renewable hydro-electricity. However, cars are mobile and can be charged by different utilities. We do not have data for the carbon intensity for other utilities and therefore cannot fully estimate the carbon impact for charging sessions outside of our service area.

Audi eTron

BMW i3

BMW i3 Rex

BMW X5 eDrive

Cadillac ELR

Chevrolet Bolt EV

Chevrolet Spark EV

Chevrolet Volt

Chrysler Pacifica

Fiat 500e

Ford CMAX Energi

Ford Focus EV

Ford Fusion Energi

Honda Fit EV

Hyundai Sonata PHEV

Hyundai Ioniq BEV

Hyundai Ioniq PHEV

Kia Niro PHEV

Kia Soul EV

Mitsubishi i-MiEV

Mitsubishi Outlander PHEV

Mercedes Benz B-class Electric Drive

Nissan LEAF

Smart fortwo Electric Drive

Tesla Model 3

Tesla Model S

Tesla Model X

Toyota Mirai

Toyota Prius Plug-in

Toyota Prius Prime

Volkswagen e-golf

Volkswagen Golf GTE