Pierce Transit Bus Rapid Transit Project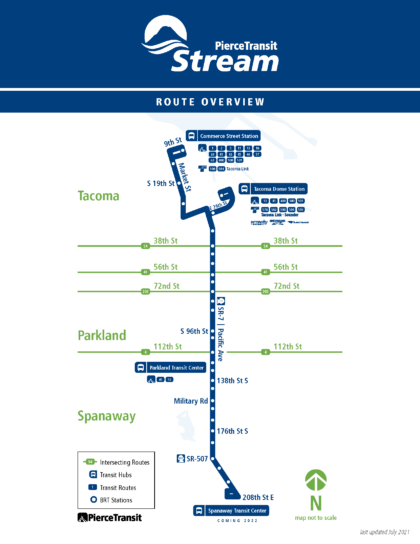 Bus Rapid Transit (BRT) is a new line of service from Pierce Transit designed to carry a more significant number of riders with greater speed, reliability, and frequency than a standard fixed-route bus. Think of the speed of light rail with the flexibility and simplicity of a bus. Pierce Transit plans the first BRT route along a 14.4-mile stretch of Pacific Avenue/SR-7 between downtown Tacoma and Spanaway. The corridor is currently served by Route 1, which has the agency's highest ridership. 
The BRT project is multifaceted and multijurisdictional, so construction will occur in six segments. The project design progresses, and the next steps are permit review, a public comment period, and construction. We anticipate the BRT project to have varying impacts along its planned route. The current schedule anticipates Pierce Transit finalizing the BRT project design then multiagency reviews, including permitting processes. 
TPU has an essential role in the success of the BRT project. Tacoma Power will need to relocate overhead services, nearly 115 poles, and select underground lines along Pacific Avenue to support the project. In addition, Tacoma Water will need to relocate eight to 10 sections of its water main and up to 260 individual water service connections. 
To better serve you, utility customers are welcome to send us requests for information, concerns, and questions, and we will respond directly, or forward them to the BRT project team.  This page will update once the scheduling of utility work in a specific area takes place. Click here to learn more about this project.